Dr. Joseph Moon
BDSC.(Hons) - University of Melbourne
Principal Dentist
Dr Joseph Moon was born in South Korea and grew up in the UK and Cambodia. He has lived in Australia for the last 15 years and during this trip around Southwest Victoria in 2017, he fell in love with Warrnambool and relocated in 2018.
Joseph graduated from the University of Melbourne with Honours in Bachelor of Dental Surgery in 2013. Since then, he has relentlessly committed to further education and was awarded the Fellowship with the Royal Australasian College of Dental Surgeons (FRACDS) in 2021, which is one of the highest achievements awarded to general dentists in Australia. While Joseph is proficient in all aspects of dentistry, he is especially passionate about Implant dentistry and Invisalign treatments. He holds the status of Master Clinician in Implant Dentistry from the prestigious GIDE Institute in the USA and has also completed his two years orthodontic residency program with OrthoED Institute in Melbourne. During his free time, he likes playing with his 8 months old son, going to the gym, and playing tennis with his wife.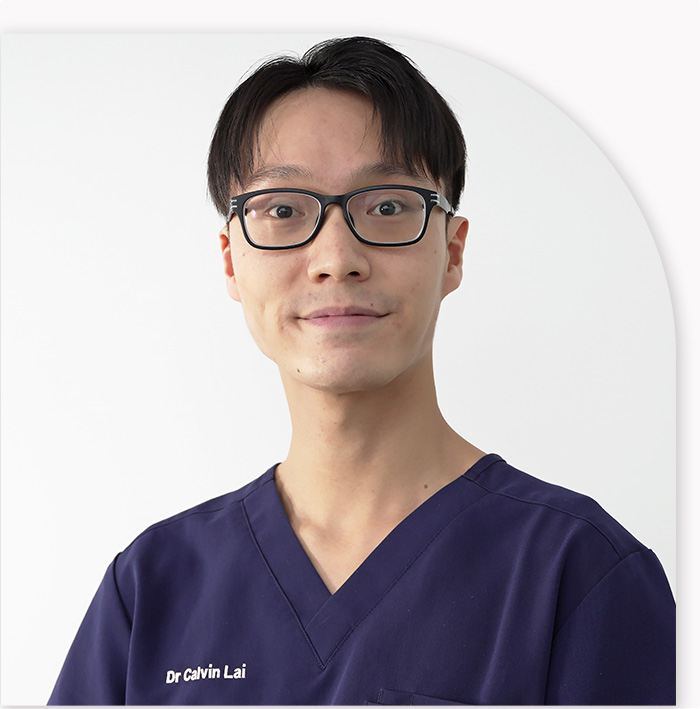 Dr. Calvin Lai
BDSC. (Hons) - University of Melbourne
Cosmetic and Family Dentist
Dr Calvin was born and raised in Hong Kong. He completed his Bachelor of Dental Science in 2013 at the University of Melbourne. He started his career off at the Dental Clinic at South West Healthcare in Warrnambool and has been enjoying the life in this lovely town. Dr Calvin is devoted in providing his patients with a comfortable and caring experience. Outside of dentistry, he is a food lover.
Dr Christopher Kawalec
Dr. Chris was born in Western Canada in the province of British Columbia. After completing a Bachelor of Science in Canada he attended the University of Adelaide and completed his Bachelor of Dental Surgery. He can often be heard in the clinic working to the sounds of the 1980's and telling tall tales from years past. Outside of dentistry he spends his time at the local gyms and thoroughly enjoys the weekly half price specials at the supermarkets. Specialty: Dentistry and a show! Song requests are accepted.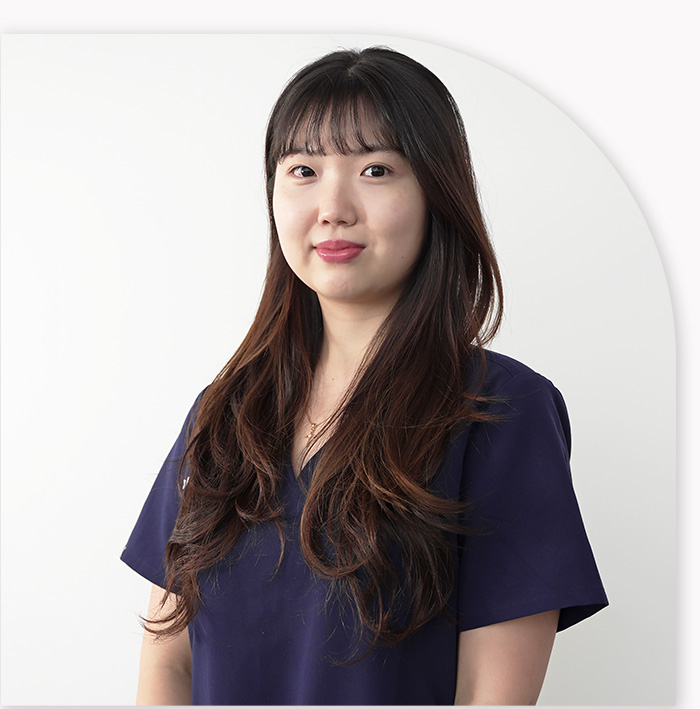 Dr Katie Joo
As a clinician, Dr Katie understands going to the dentist can be intimidating and daunting, but she strives to provide a comfortable and gentle experience with great outcomes for all my patients. Katie graduated with a Bachelor of Health Sciences in Dentistry and Master of Dentistry from La Trobe University. She has worked in a mix of public and private dental settings, seeing a wide variety of patients from all walks of life. Katie has a strong focus on prevention and to empower her patients about their dental health so they can enjoy their smile to the fullest. Outside of dentistry, Katie is a big foodie, always on the hunt for the best new restaurants. She also loves going to the movies and particularly partial to a Korean thriller. Katie is fluent in English and Korean.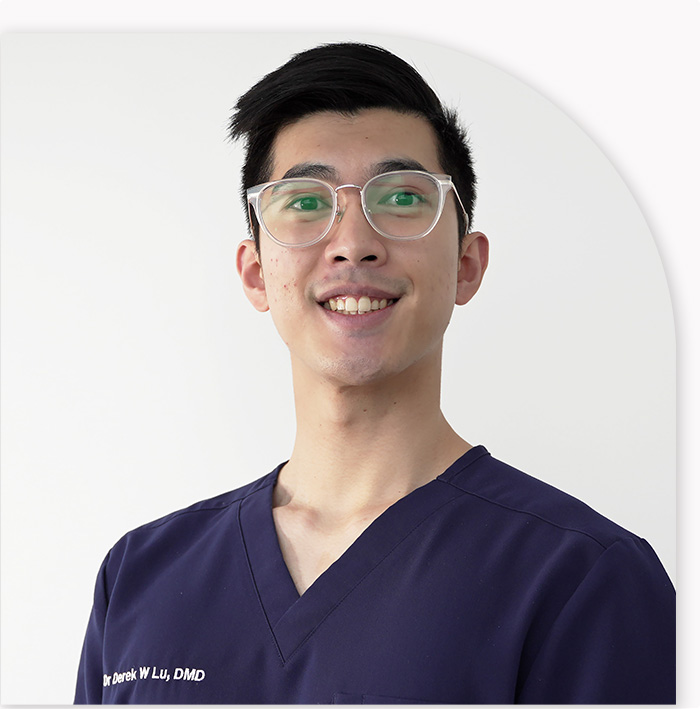 Dr Derek Lu
Dr Derek was born and raised in Melbourne and completed his Doctor of Dental Medicine degree at the prestigious University of Sydney. In dentistry, Derek adopts a patient-centered approach, ensuring treatment plans are catered specifically towards each individual. Outside the clinic, Derek enjoys playing basketball and computer games.
Dr Gabrielle Kim
Dr Gabrielle completed Bachelor of Biomedicine and Doctor of Dental Surgery at the University of Melbourne. With exceptional attention to details and gentle caring approach, she makes sure each visit is a pleasant one and dental care of high standard is delivered. While enjoying all aspects of general dentistry, she has a special interest in cosmetic restorative dentistry. Outside dentistry, Gabrielle loves pilates and travelling.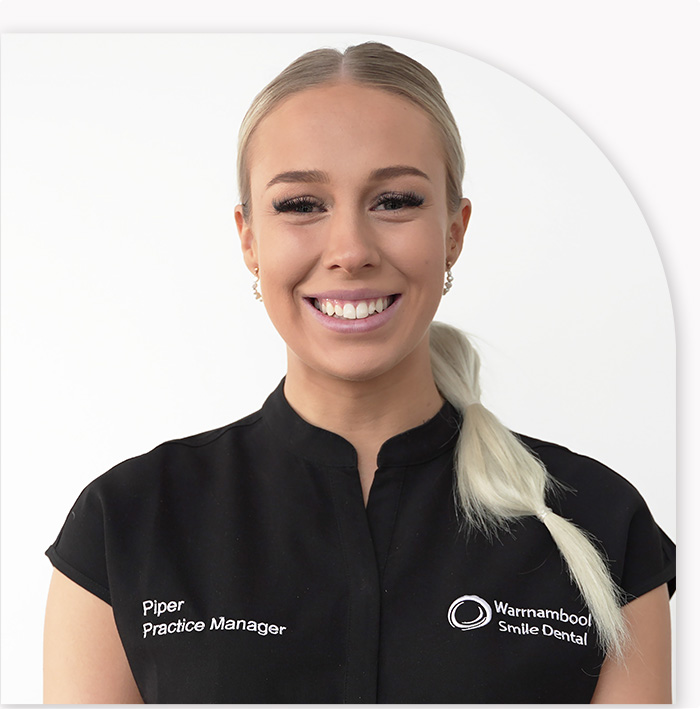 Piper
Practice Manager
Piper is a dedicated dental nurse and practice manager with six years of experience. She was born and raised in Warrnambool. Her passion for patient care shines through as she excels in managing and nurturing those under Warrnambool Smile Dental's care. Patients are sure to be welcomed by Piper's warm, inviting smile, and she enjoys engaging in conversations to connect with patients on a personal level. Beyond the dental office, Piper cherishes quality time with her loved ones, relishing moments with family and friends. Living close to the beach, she often escapes there with her dogs and partner.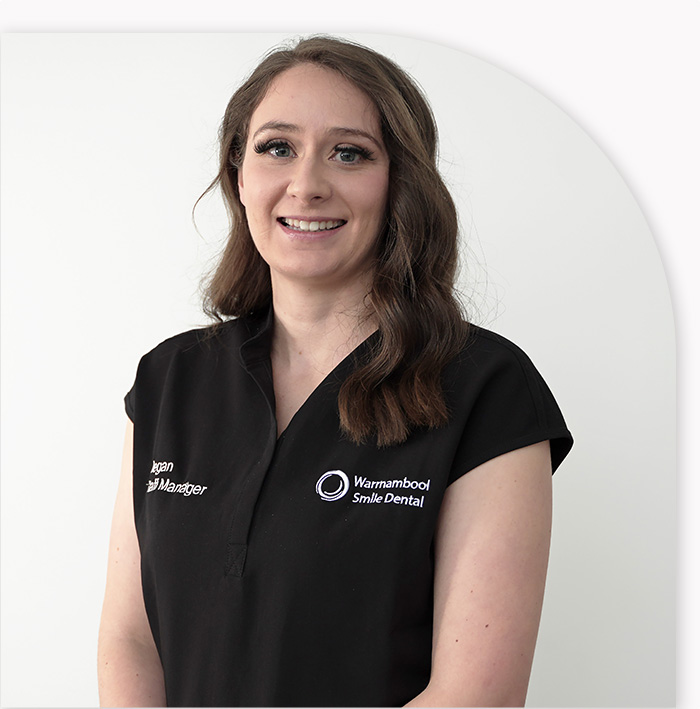 Megan
Staff Manager
Megan, a Warrnambool native, made history as the inaugural dental nurse at Warrnambool Smile Dental when it first opened its doors in 2018.Her steadfast determination and dedication not only fueled her pursuit of certificates IV in radiography and oral hygiene promotion but also stemmed from her deep-rooted passion for dentistry.
Beyond her thriving career, Megan finds joy in motherhood, cherishing a harmonious work-life balance while raising two beautiful children.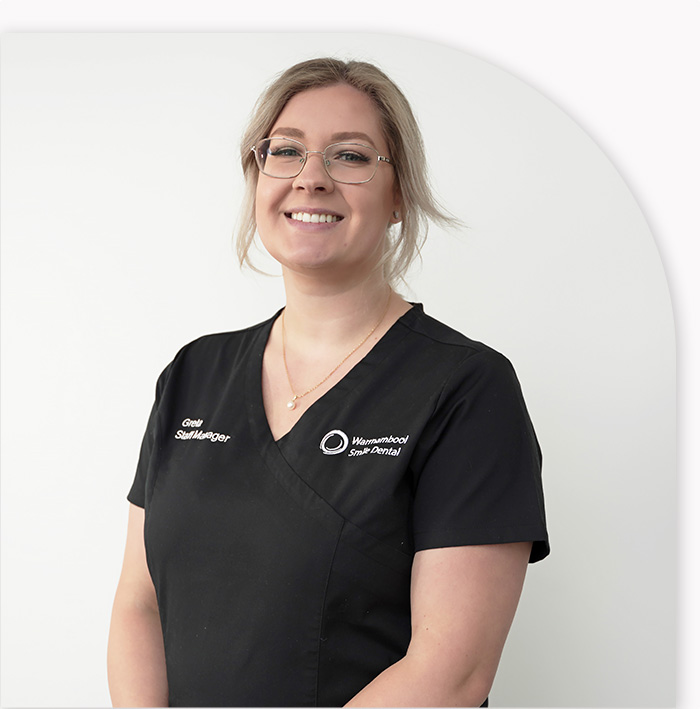 Greta
Greta is a dedicated professional at Warrnambool Smile Dental, having been an integral part of the team since its establishment in 2018. With a deep passion for dentistry, Greta's confidence and leadership qualities shine through as she ensures top-notch patient care. Beyond her professional commitment, Greta values work-life balance, cherishing precious moments with her daughter to maintain a serene family life.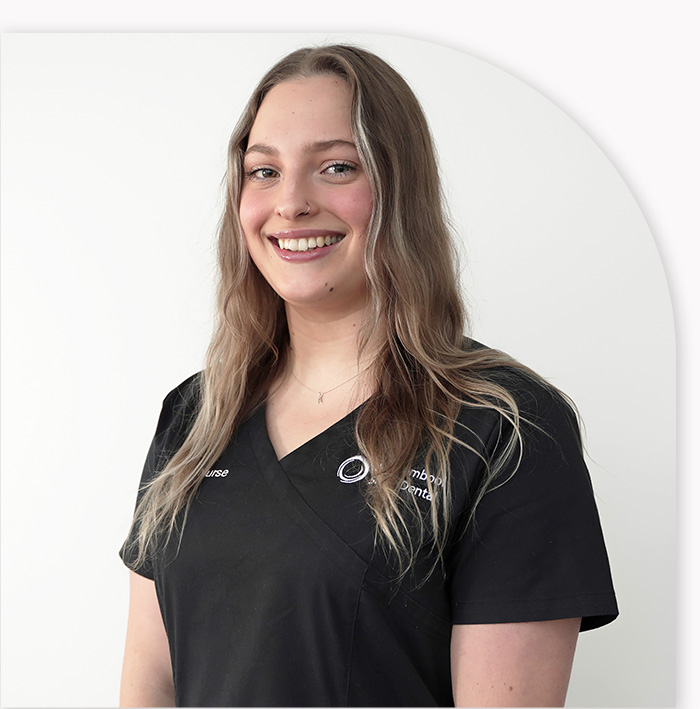 Alyshia
Alyshia grew up in the small town of Woolsthorpe, surrounded by the local dairy farms. She has her certificate as a dental nurse and is currently completing another certificate in early childcare which made Joseph consider attaching a daycare to the clinic. Alyshia enjoys vibing to the good old classics while working with Dr Chris and is a big fan of the Melbourne Renegades.
Talya
Tayla is one of our senior dental nurses, having worked in the dental industry since 2016. She takes pride in her job with a strong work ethic, professional duty and commitment to providing a quality patient experience. Outside work, Tayla spends quality time with her husband & children, she also enjoys exercising and going to the cinemas in her downtime.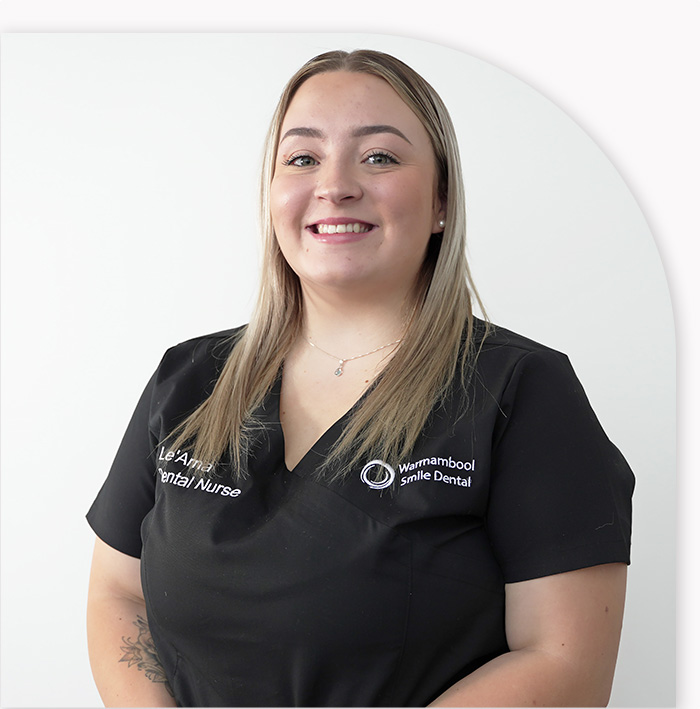 Le'Arna
Le'Arna is a fun, motivated dental nurse who always checks in with the patients and tries to ensure everyone has a happy experience when coming to a dentist! She's hoping to grow within the healthcare field and help the other locals within her community. In her free time she loves to ride her horses and play netball.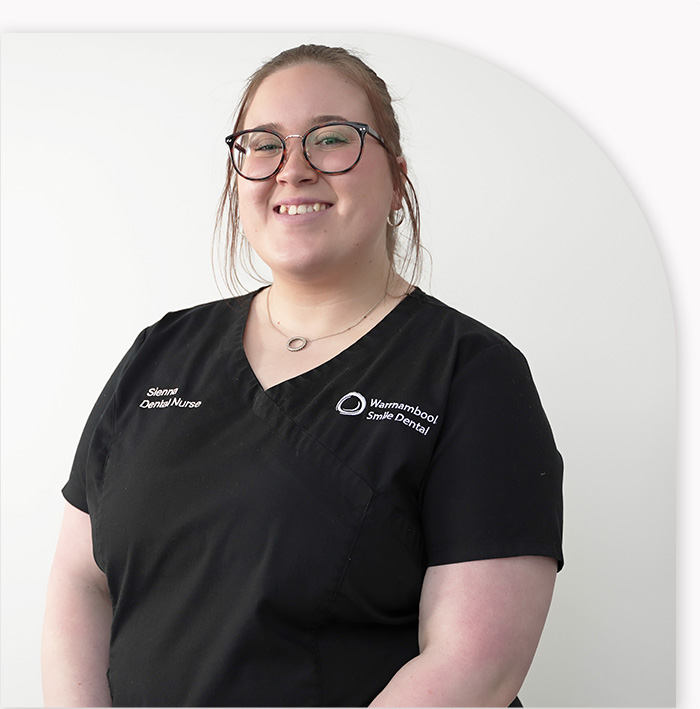 Sienna
Sienna is a motivated, bubbly and caring personality who is a great support to our dentists and patients. She's a warrnambool local and has finally made her foot in the door in the healthcare field at Warrnambool Smile Dental. Outside of work she enjoys spending time with her cat Storm, and watching a good horror film!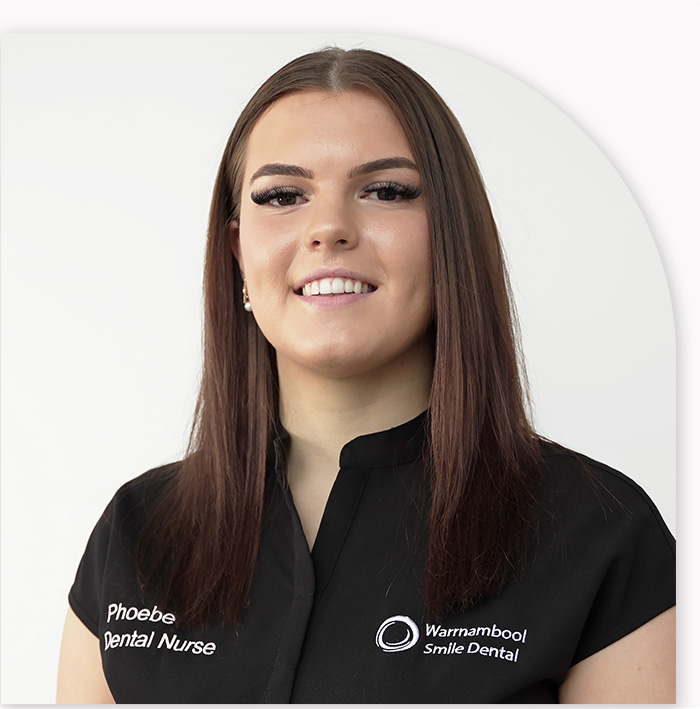 Phoebe Hibbert
Born in Melbourne and raised in Kirkstall, A passionate dental nurse and receptionist, helping to make smiles shine brighter every day. Always helping patients feel at ease and welcomed at Smile dental. When Phoebe is not in the dental world, Phoebe is a fitness enthusiast, hitting the gym and staying active.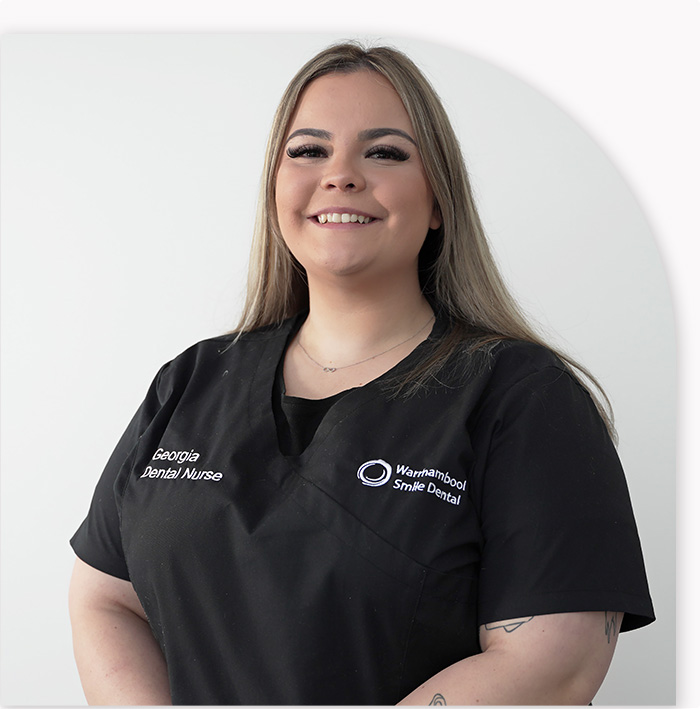 Georgia
Georgia is a friendly dental nurse who loves spending time with family, friends and her adorable dog. Outside of work she enjoys baking, cooking and getting creative with arts and crafts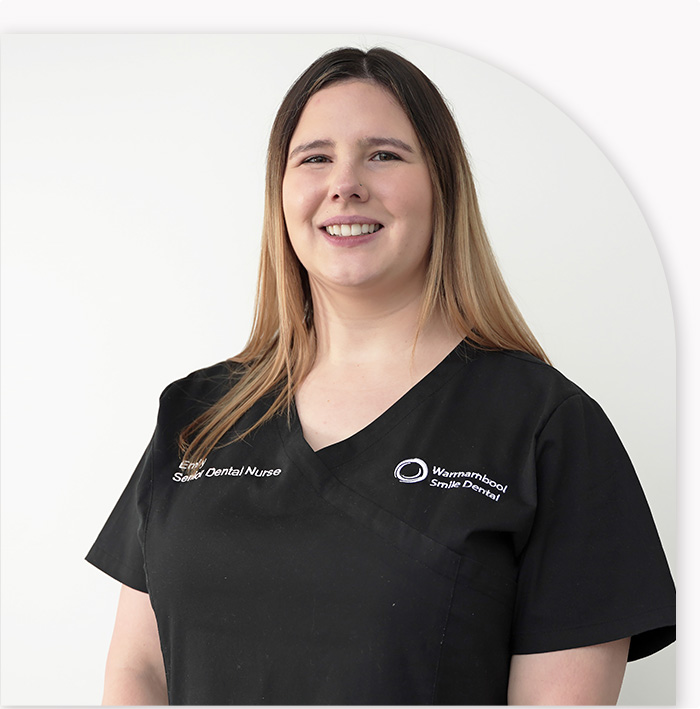 Emily
Emily is an excellent dental nurse who always makes patients feel comfortable while in the dental chair. Outside of work she enjoys hiking and spending time with friends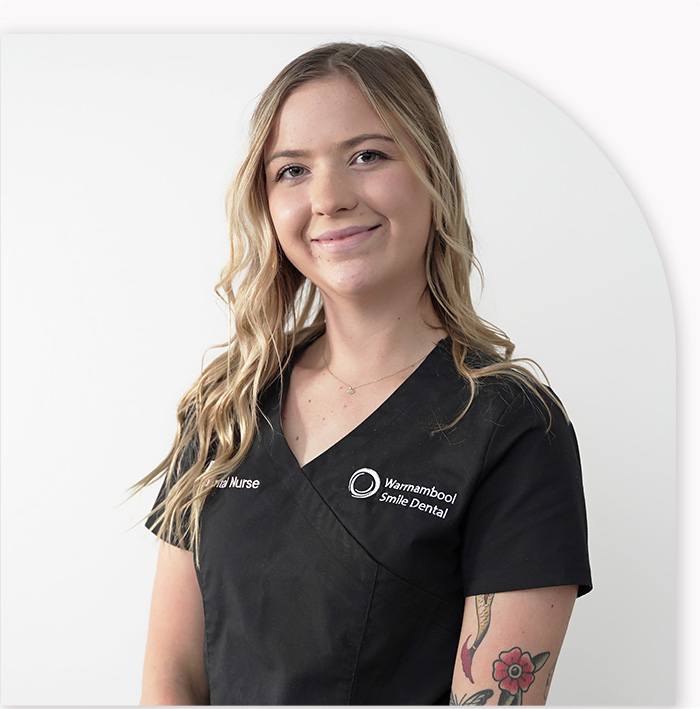 Erin
Erin is a friendly dental nurse who enjoys taking care of people's smiles. Outside of work she enjoys exploring the outdoors, cooking and yoga.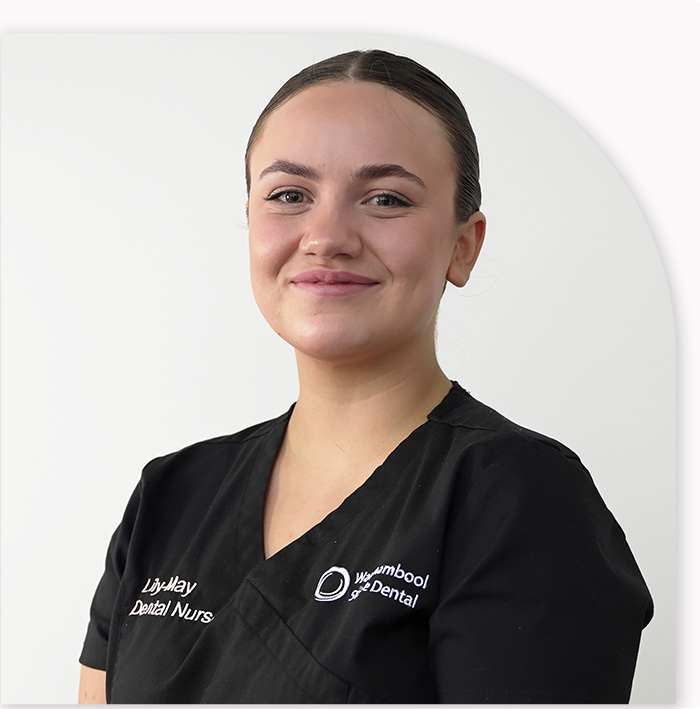 Lily
Lilymay enjoys being a dental nurse as she has a passion for oral health and bright smiles. Outside of the dental world, Lilymay enjoys quality time with her family and friends.